We Win the Toughest Cases
Unparalleled Experience.

Incredible Results.
At the Law Offices of Grech & Packer, our attorneys have the legal expertise, intellectual excellence, and fearlessness to defend you.
Riverside Criminal Defense Lawyer
Former Prosecutor Now Fighting for You
The threat of going to jail on a serious criminal charge is overwhelming to the accused and their families. If you or a loved one has been accused of a criminal offense, it is crucial that you have legal representation that is committed to your case and has a proven record in criminal court. Grech & Packer is recognized as an accomplished criminal defense law firm with an impressive record throughout the courts in the Riverside area.
With experience working in the District Attorney's office in Riverside, Attorney Paul Grech has worked within the legal system on both sides of the bench, allowing a distinct insight into how to present a case with the goal of a favorable outcome for you.
Our Riverside criminal lawyers handle criminal cases including DUI, arson, assault & battery, domestic violence, drug crimes, federal crimes, felony crimes, internet crimes, juvenile crimes, kidnapping, murder & manslaughter, sex crimes, theft crimes, violent crimes, and white collar crimes.
Certified Defense Attorneys in Riverside
Our firm's founder, Attorney Paul Grech, is a certified Specialist in Criminal Law, a designation that few defense teams in the state can claim. Attorney Grech received the prestigious honor of being selected for inclusion in the list of 2013 Southern California Super Lawyers®. A lawyer can only be selected for this impressive list after a rigorous background check and thorough peer review.
We have an unmatched commitment to defending our clients, and are nationally ranked AV by Martindale-Hubbell®. This means we are nationally recognized as "Preeminent" in the field of criminal law. Attorney Grech has also been included in the list of Top 100 Trial Lawyers by the National Trial Lawyers. We are quite simply, the best.
Contact our Riverside criminal defense lawyers at (951) 291-0105 today!
If You're Looking for Results, You Found the Right Team
We have over 50 years of combined experience and have handled over 150 jury trials. Our criminal defense lawyers in Riverside, CA have a track record of success, and we'll fight toward a favorable result on your behalf.
Skilled White Collar Crime Attorneys
The Law Offices of Grech & Packer Secures Probation With No Jail Time for

Pharmacist Charged as Part of $123 Million Insurance Fraud Scheme
Our client K.A. was charged in a multi-count indictment for his participation in a $123 million insurance fraud scheme. The client was facing more than a decade behind bars. The Law Offices of Grech & Packer successfully fought to have K.A. released from custody on bail after multiple lengthy and contested bail hearings. Then, after months of litigation, the firm successfully resolved the case for probation and no jail time. Ultimately, K.A.'s charges were reduced to misdemeanors and expunged.
Recent Victories
Where Tough Cases Are Won
M.A. v. City of Hemet $1.1 Million

M.A. v. County of Riverside $875 Thousand

A.Y. v. County of San Bernardino $750 Thousand

P.E. v. City of Hemet $300 Thousand

K.M. v. City of Hemet $250 Thousand

Police Canine Bite $300,000 Settlement

Unarmed Client Shot by Police $1,100,000 Settlement

Unarmed Client Shot by Police with Less Than Lethal Weapon $250,000 Settlement

Attempted Murder Not Guilty

Attempted Murder Acquitted of All Charges

Attempted Murder Acquitted of All Charges

Domestic Violence No Jail Time

Drug Distribution Life Sentence Reversed

Evading Police $875,000 Client Settlement
Is Your Lawyer a California Bar Certified Specialist?
It is understood throughout the legal community that the quality of your defense lawyer at trial has a huge impact on the outcome of the case. We are the only firm in Riverside and San Bernardino to be certified by the California State Bar in the field of criminal law. Becoming a Board Certified attorney is no easy feat to achieve. It requires continued education in criminal law, extensive experience, ethical conduct, and high scores on a rigorous examination. Board certified lawyers meet a high standard of legal knowledge.
Our years of trial experience and impressive victories prove that we are aggressive defenders who know their way around the criminal justice system, judges and juries.
An understanding of how prosecutors strategize - through personal experience - allows our criminal defense lawyers in Riverside to stay one step ahead when planning the approach to employ in defending your case. We stand by our clients when the world has turned against them, and in some cases we are the only voice that they have in their fight for freedom. This is our mission and our calling, and we are proud to be of service to those who need it the most.
Contact our Riverside criminal defense attorneys today at (951) 291-0105!
The Importance of

the Right Team
The criminal justice system is complex, and knowing how to navigate effectively requires extensive knowledge of the law as well as a sound understanding of judicial processes. Having the right team on your side – a team that knows what it takes to get results – can mean the difference between a conviction and your freedom.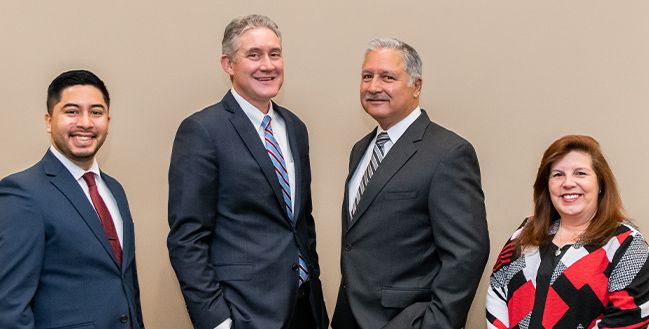 Client Testimonials
Don't Just Take Our Word for It
- Christopher

- Keith W.

- Rudy

- Robbie

- Nathan
Types of Criminal Cases We Handle
Half Century of Shared Experience Committed to Winning Your Case
Great Defense Starts with Experience
We Will Do Whatever We Can to Protect Your Freedom
Over 65 Years of Shared Experience

Former Deputy District Attorney

Certified Specialist in Criminal Law

More Than 190 Jury Trials Handled With Exceptional Results

Selected for Inclusion in Southern California Super Lawyers

Attorney Paul Grech Inducted into the International Academy of Trial Lawyers